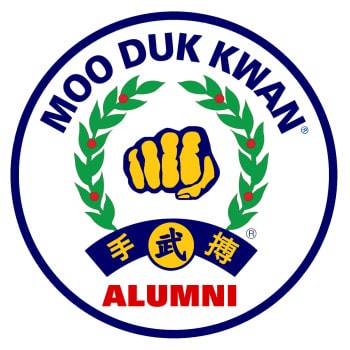 "Moo Duk Kwan® Alumnus membership provides former students of Moo Duk Kwan® schools an opportunity to continue expressing their loyalty to, and support of, the philosophy, principles and Moo Do values expressed by Moo Duk Kwan® Founder Hwang Kee while extending support for preservation of the Moo Duk Kwan® martial art school's legacy."
-- Phil Duncan
---
Activate Or Renew Your Alumni Membership
---
Alumni Members of the Moo Duk Kwan® martial art organization include any practitioner who has ever achieved the rank of 1st Dan or higher through one of Hwang Kee's Moo Duk Kwan® schools and was legitimately certified by Founder Hwang Kee and who is recorded in the Moo Duk Kwan® organization records.
SCROLL DOWN TO GET A COMPLIMENTARY PACK OF ALUMNUS DECALS!
Alumni Members of the United States Soo Bahk Do Moo Duk Kwan Federation® need not be active in a certified dojang in the USA, but can still elect to activate and maintain a Moo Duk Kwan® Alumni membership to support Moo Duk Kwan® mission objectives.
---

---
---
---
Click to Tell Us Why You Love Soo Bahk Do
---
FREE ALUMNUS DECAL PACK
 We'll mail you a pack of vinyl Moo Duk Kwan® Alumnus  decals that you can proudly display anywhere and all you need do to get them is to update your contact and shipping information using the form below. 
View All Alumni Who Have Claimed Decals (Permission Required)