Peter Drucker states in his book, "Managing The Non-Profit Organization" that:
"The "non-profit" institution neither supplies goods or services nor controls. Its "product" is neither a pair of shoes nor an effective regulation. Its product is a changed human being. The non-profit institutions are human change agents. Their "product" is a cured patient, a child that learns, a young man or woman grown into a self-respecting adult; a changed human life altogether.

The non-profit institution is not merely delivering a service. It wants the end user to be not a user but a doer. It uses a service to bring about change in a human being...

Non-profit Institutions depend heavily on volunteers to deliver the catalyst of change that results in its "product" (changed human beings) and therefore cannot command them. The non-profit Institution must inspire, motivate, encourage, and recognize those whom it depends on to accomplish its particular goals and ultimately its Mission."
Volunteer today so you can make that difference in someone's life. 
---
Technical Advisory Committee
DETAILS: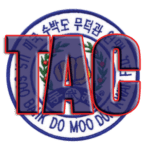 Purusant to the Charter & Bylaws, Technical Advisory Committee members are appointed by the Kwan Jang Nim.
BYLAWS ARTICLE II SECTION 6 
Technical Advisory Committee Chairman
A. Shall be designated (appointed) by the President.
B. The Technical Advisory Committee derives its existence and authority from the Charter Article IV, Sections 4 and 5, which reserves matters pertaining to style, tradition, philosophy, history, technique, and testing standards of the Federation including such matters as they relate to guidelines for Certification of Studios, promotion of individuals and the processing of Dan certificates to the President or his designee.
P. The T.A.C. shall identify and recruit for service to the Committee any member, regardless of membership classification or national origin, who by virtue of background, experience and enthusiasm will best further the purpose and accomplish the work of the Committee.
Q. The T.A.C. shall identify and recruit independent advisors and outside consultants to assist in the accomplishment of committee tasks and reports and establish such subcommittees and special task forces as will expedite the work of the Committee.
Technical Advisory Committee Members have historically been appointed by the Kwan Jang Nim based on their technical skills, their instructional skills, their frequency of participation in regional, national and/or international events plus other factors.
If you think you have what it takes to be a good Technical Advisory Committee Member and aspire to someday be considered for a TAC appointment by the Kwan Jang Nim, then volunteer so your interest is known when a position becomes open for an appointment.
A list of current Technical Advisory Committee Members can be found here.
Thank you for offering your service and support to the Kwan Jang Nim, the art, the Federation and its members.
Sign up below...