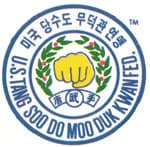 In 1974-1976, before the United States Tang Soo Do Moo Duk Kwan Federation formation, Charter Members met, collaborated, conceived the U.S. Federation's primary objective for existence and created the legal structure which became our United States Federation.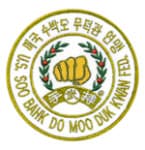 Charter Members wear a special GOLD FEDERATION PATCH. 
Everyone featured here was named on the original copy of the Federation's formation documents as prepared for submission to the State of New Jersey on 03/05/1976. Each one's current status is noted for historical purposes.
Charter Members
United States Tang Soo Do Moo Duk Kwan Federation® 1976 to 1996
United States Soo Bahk Do Moo Duk Kwan Federation® 1996 to date

 

Charter Member Name


Moo Duk Kwan®
Dan Bon

 Status

 Date

 

..

                                                           
 H.C. Hwang, KJN
509
 Active
 

 

 Larry Seiberlich, SBN
1815
 Active
 

 

 Russ Hanke, SBN
4137
 Active
 

 

 Vic Martinov, SBN
 10189
 1936-2015
 

 

 Robert Shipley, SBN
4825
 Active
 

 

 Ben Cortese, SBN
 11689
 Active
 

 

 Frank Bonsignore, SBN
 15805
 Active
 

 

 Jeff Moonitz, SBN
 17650
 Active
 

 

 

Arthur Pryor, SBN

 16505
 

Resigned

 Andy Ah Po, SBN, CA
 10187
 Resigned
 Robert Beaudoin, CT
5661
 1st Year
 03/05/1976
 Lyn Stanwich, CT
 1st Year
 03/05/1976
 Chun Sik Kim, PA
2457
 1st Year
 03/05/1976
 Tchang-Bok Chung, NJ
 12641
 1st Year
 03/05/1976
 Frank Trojanowicz, PA
 13333
 1st Year
 03/05/1976
 Fred Kenyon, CA
 14345
 1st Year
 03/05/1976
 Dennis Miller, SC
 

18430

 1st Year
 03/05/1976
 Robert Kingsley, NV

6044

 1st Year
 03/05/1976
 Ronald Savage, CT
 15879
 1st Year
 03/05/1976
 James Lee, NJ
 14317
 1st Year
 03/05/1976
 Joe Weeks, AK
3596
 1st Year
 03/05/1976
 Lyn Jackson, OH

3597

 1st Year
 03/05/1976