Louis Barrier Wenatchee War Veteran

Resumes Soo Bahk Do Training At Age 83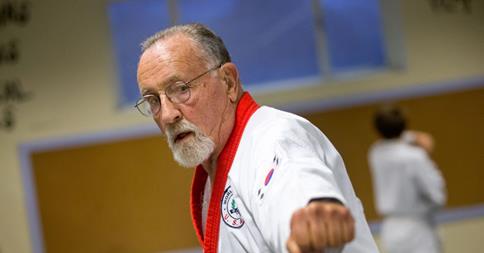 Reading Time:
< 1
minute
by Rick Steigmeyer, The Wenatchee World
WENATCHEE — A veteran of two wars, Louis Barrier started taking martial arts classes in 1988 as a way to channel his aggression and manage post traumatic stress. It was a good endeavor then and it's a good one now, said Barrier, who recently resumed the discipline he left behind more than 20 years ago.
Now, at age 83, he hopes to earn a black belt in the Korean karate discipline of Soo Bahk Do Moo Duk Kwan, becoming one of the oldest people in the Northwest region to do so.  Source
Mount Vernon Soo Bahk Do Limited is located at 1100 Roosevelt Ave. Suite C in Mount Vernon, WA. 98273. Contact us at  (360) 395-5123 or connect with us at the web presences listed below.
Latest posts by Mount Vernon Soo Bahk Do (see all)