Volume 1 Autographing Underway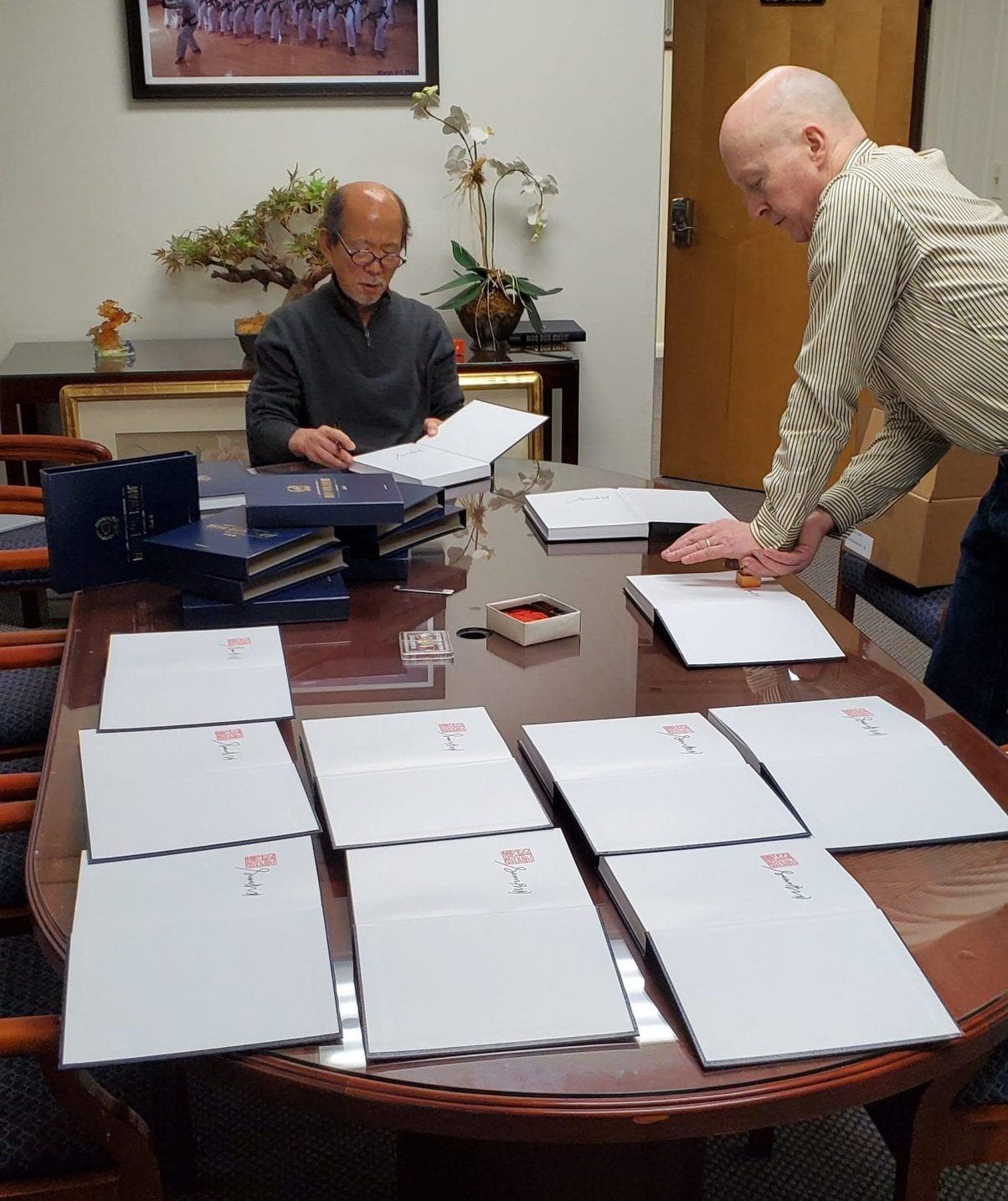 Reading Time:
< 1
minute
Today, February 26, 2020 , Kwan Jang Nim H.C. Hwang began autographing the shipment of Collector's Limited Edition Volume One textbooks.
Sometimes the scale of activity at National Member Headquarters may not be evident to members.
Perhaps the previous photos of the pallets of books and these photos can help convey the scope of the task Kwan Jang Nim has before him to autograph them all. Assisting him is Sa Bom Nim Erik Orella who also helped move the two pallets of books up two flights of stairs to Headquarter's office.
Just below the photos is a list of all the generous supporters who helped get Volume One back in print after a decade being out of print. All have waited patiently for production to be completed and we thank you for your In Neh. Note that the list does not indicate how many copies each person acquired, but as of today only serial numbers  240 to 500 remain available for those who want to add this exquisite text to your library. 
Re-packaging for shipping to all who have ordered copies is also underway.
| Fname | Lname | Salutation |
| --- | --- | --- |
| Freddy | Abadie | Mr |
| Desmond | Aberdeen | Mr |
| Rich | Ahlers | Sa Bom |
| Lynda | Akiyama | Ms |
| Frank | Akkerboom | Sa Bom |
| Haiko | Akkermans | Mr |
| Griffen | Allen | Mr |
| Perry | Araeipour | Sa Bom |
| Colette | Arvidson | Sa Bom |
| Diego Olguin | Avila | Mr |
| Michael | Bachmann | Mr |
| Tyler | Baker | Kyo Sa |
| Jacquie | Basile | Ms |
| Lou | Batzogiannis | Mr |
| Chad | Behrend | Mr |
| James | Bell | Mr |
| Michael | Berardinelli | Sa Bom |
| Kimberly | Bird | Ms |
| Richard | Blake | Master |
| Carl | Blosser II | Mr |
| Frank | Bonsignore | Sa Bom |
| Ken | Brent | Mr |
| Leonie M | Broman | Sa Bom |
| George | Broyles | Kyo Bom |
| Mario | Bugeja | Mr |
| Teodur | Butiu | Mr |
| Kathy | Caraco | Kyo Sa |
| John | Caskey | Mr |
| Paul | Chiasson | Kyo Sa |
| W Y | Chung | Sa Bom |
| Russell | Colston | Sa Bom |
| Julie | Comins | Ms |
| Annie | Constable | Sa Bom |
| James | Coombs | Mr |
| Brian | Corrales | Sa Bom |
| John | Correljé | Mr |
| Douglas | Countryman | Kyo Bom |
| LaMonica | Cross | Ms |
| John | Crudup | Mr |
| Rodrigo | Cruz | Sa Bom |
| Sean | Cullen | Sa Bom |
| Jim | Cunliffe | Mr |
| Nicholas | D'Amato | Mr |
| Joicelyne D. | Dacio | Ms |
| Petur | Danielsson | Mr |
| Martijn | De Bruijn | Mr |
| Angela | Dearman | Jo Kyo |
| Jody | DeChant | Mr |
| Charles | diPierro | Mr |
| Dat | Do | Mr |
| Linda | Doty | Ms |
| Richard | Duncan | Sa Bom |
| Scott | Dyer | Mr |
| Frank | Echols | Master |
| Susan | Fittanto | Sa Bom |
| Stephanie | Fitts | Ms |
| David | Flusser | Mr |
| Terry | Forman | Mr |
| Kathleen | Franklin | Ms |
| Andrew | Gassman | Jo Kyo |
| Marc | Gerstenberger | Mr |
| Soledad | Gonzalez | MS |
| Douglass | Goodchild | Mr |
| Patrick | Greiner | Mr |
| Victor | Griss | Jo Kyo |
| Travis | Guinn | Sa Bom |
| David | Gurba | Mr |
| Tony | Gutierrez | Mr |
| Dillon | Hall | Kyo Sa |
| Carol | Hanson | Jo Kyo |
| Stephanie | Harrell | Ms |
| Craig | Hays | Sa Bom |
| Elizabeth | Hegedus | Ms |
| W. Hugh | Herrington | Master |
| Matthew | Hitch | Sa Bom |
| Chuck | Holland | Sa Bom |
| Karen | Hong | Mrs |
| James | Hoos | Mr |
| Ed | Horni | Sa Bom |
| Joseph | Hornyak | Mr |
| Richard | Ingram | Mr |
| John | Ioia | Sa Bom |
| Mark | Jacobs | Master |
| Michael | Jennings | Mr |
| Alan | Jensen | Mr |
| Alan | Jette | Mr |
| Gareth | Jones | Mr |
| Sigurdur | Juniusson | Mr |
| Jonathan | Kimmitt | Mr |
| David | Kingman | Sa Bom |
| George | Kleindinst | Mr |
| Derek | Koina | Sa Bom |
| Mark | Koina | Sa Bom |
| Harry | Lade | Sa Bom |
| Marni | Larkin | Ms |
| Jaocb | Larusson | Mr |
| Brian | Lasater | Mr |
| Robert | Leclerc | Mr |
| Viktoria | Leeper | Ms |
| Steven | Lemner | Sa Bom |
| Josh | Lockwood | Sa Bom |
| Esther | Lum | Ms |
| Jeff | Mackey | Sa Bom |
| Sofus | Macskassy | Jo Kyo |
| Colan | Magill | Mr |
| Martin | Marcus | Mr |
| Nicholas | Margerum | Mr |
| Lynn T. | McDermand | Sa Bom |
| Malcolm | McLevy | Jo Kyo |
| Chris | McMillan | Kyo Sa |
| James | Meighan | Mr |
| Heather | Merritt | Ms |
| Tom | Mihok | Mr |
| Ken | Moore | Mr |
| Pascal | Morf | Master |
| Chad | Mosby | Jo Kyo |
| Tracy | Mosher | Ms |
| Daniel | Murphy | Mr |
| Peter | Murray | Sa Bom |
| Harry | Needham | Mr |
| Sean | Ogden | Mr |
| Michael | Oravec | Mr |
| Erik | Orella | Sa Bom |
| Makala | Pace | Kyo Sa |
| James | Patuc | Master |
| Jack T. | Pendergraph JR | Kyo Sa |
| Ed | Pereria | Mr |
| Daniel | Plante | Mr |
| Chris | Plock | Mr |
| Andrew | Reynolds | Mr |
| Jared | Rosenthal | Sa Bom |
| Michael | Rutherford | Mr |
| Jamie | Rye | Jo Kyo |
| John | Saltarelli | Mr |
| JT | Scholz | Sa Bom |
| Paul | Schuster | Mr |
| Larry | Seiberlich | Sa Bom |
| Luke | Sheid | Mr |
| Cheyenne | Smith | Master |
| Barry | Snell | Master |
| Tyler | Starkovich | Mr |
| Michael | Steidley | Sa Bom |
| Mary Kate | Stinehour | Master |
| William | Toomey | Sa Bom |
| Dwayne | Townsend | Sa Bom |
| Kenneth | Trevellyan | Sa Bom |
| Frank | Tsai | Sa Bom |
| Glenn | Uesugi | Mr |
| Mo | Vatan | Sa Bom |
| Stephen | Vella | Mr |
| Jeffrey E. | Vickers | Kyo Sa |
| Carl | Vonck | Sa Bom |
| Robert | Walsh | Mr |
| Peter | Wassenaar | |
| Helen | Wedin | Ms |
| Jacob | Whitchurch | Mr |
| Katherine | Wieczerza | Ms |
| Richard | Wilcox, DC | Sa Bom |
| Thomas | Wilson | Jo Kyo |
| Stacy | Wilson | Jo Kyo |
| Kim | Wyles | Sa Bom |
| Anne | Yellowkidney | Jo Kyo |
| Jonathan | Youmans | Kyo Sa |
| Thomas | Young | Mr |
| James | Zevchak | Mr |